Lighter than air
In order to provide you with the best possible protection, we have created the whole filtration again. We designed the mask from the lining, focusing on effectiveness, comfort and ease of breathing. What we achieved was a breath of fresh air.
---
Easy to fit
For a perfect fit, the seal is designed with an articulated top layer. Simply unfold the mask to fit larger sizes and create a flexible seal around the critical area of the nasal bridge. No more worrying about a mismatched, uncomfortable mask – with AirPop this problem disappears in no time at all! 
---
Five-layer protection
Double-layer, electrostatic non-woven fabric filters of the melt-blown type are characterized by high filtration efficiency and protect against even the finest contamination. The pre-filter layer is placed between the two protective top layers, thanks to which it effectively stops harmful particles in the air. The disposable filter blocks 99.97% of PM0.3, including dust, bacteria and viruses – so wherever you go, you can feel safe everywhere. Also noteworthy is the long life of the filter – it is effective up to 40 hours of use. So take advantage of its power and protect your health from airborne hazards.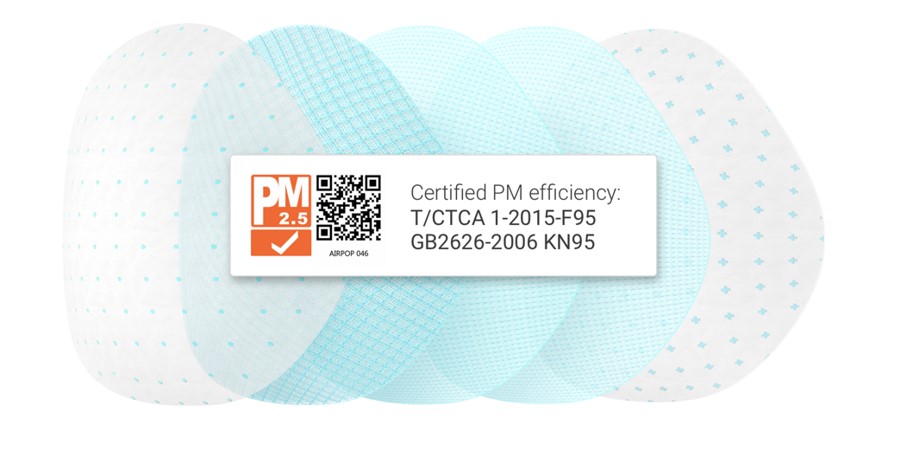 ---
Matching Cut
The AirPop mask is designed to give you a perfect fit and comfort. The super lightweight inner layer ensures that the mask does not collapse and stays perfectly between your mouth and nose, making it easier to breathe – so the problem of falling, uncomfortable masks disappears. The patented seal is thin, flexible, soft and pleasant to the skin, so it provides continuous comfort. The mask has been bonded 100% ultrasonic, without glue. Automated installation in a clean environment means no use of any hazardous chemicals or VOC (Volatile Organic Compounds) degassing. The mask also has an extended chin guard for additional protection. It is light and hygienic, providing the same protection and comfort as the AirPop flagship mask. If you want both effective protection and increased comfort, AirPop Light will meet your expectations perfectly.
---